Get To Know The Awesome Bounce House Team
Nobody Knows Inflatable, Event, and Party Rentals Like We Do
When you rent from us you're not just renting the "stuff" you need to throw a great party or event, you're gaining an experienced company there to make your event a stress-free experience for you and an unforgettable, once in a lifetime experience for your guests.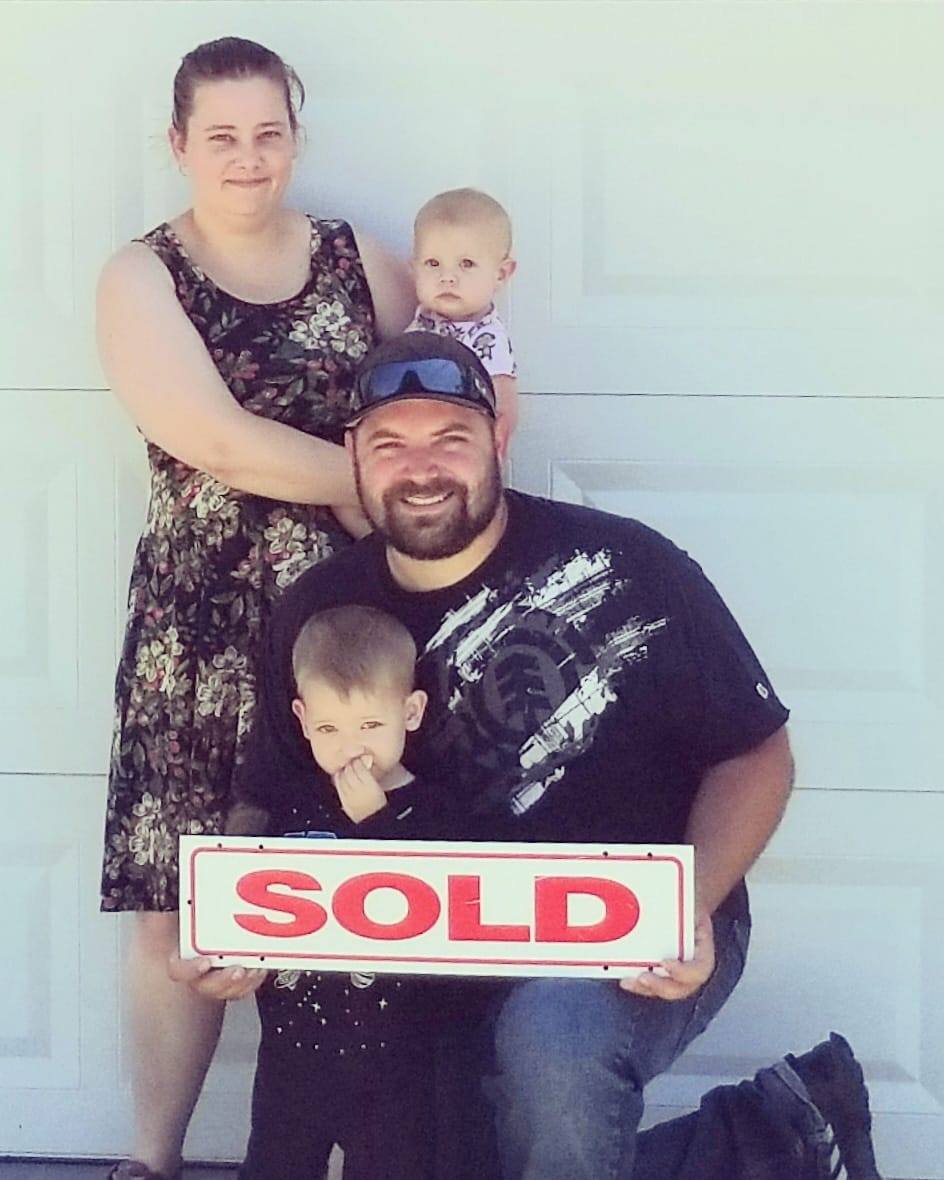 We are Vanessa and Nick Caldwell. Our story blends with the previous owners as we are long time friends, which is what makes the company so unique. Everything fell into place once we purchased our home in 2019 as well as becoming owners of Toads Jump. When we first thought about owning a bounce house company the excitement was beyond measure. We are originally from Sonoma County, California and decided to uproot from everything we knew and move to Hidden Valley Lake, Ca. Taking on two big life changes was a bit intimidating, but boy were we thrilled! We never turn down a challenge! As we started doing rentals and meeting families we knew this was our calling. We love meeting new people and being able to bring joy to the families. Nick and I both agree that the best part of the job is seeing the kids faces light up as soon as the bounce house starts going up.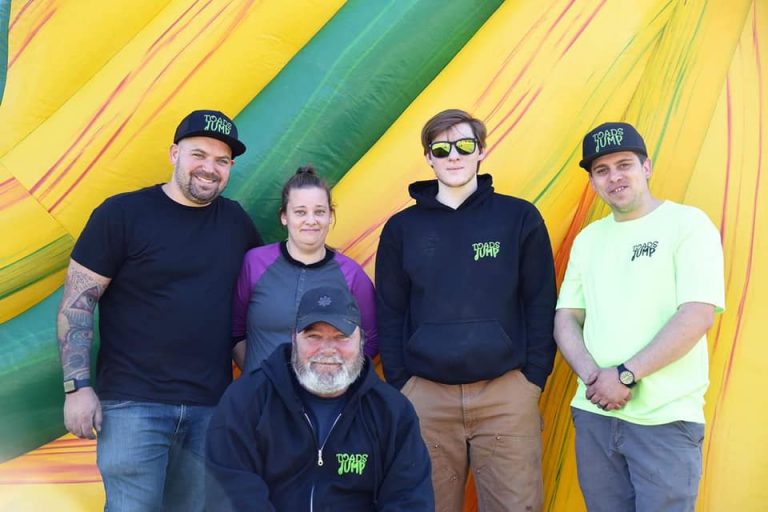 Growing Our Team
As the months went on we decided to bring new employees into our business. Here is an awesome team photo and a fun intro to each of our employees. First up we have Nick and Vanessa on the far left. We are the owners of this wonderful company. Nick has taken a bit of a step back when it comes to deliveries. He focuses on his full time job but helps out with some deliveries here and there as well as the training. Vanessa is behind the scenes of all of the social media, as well as the business side like hiring, paperwork, and I even answer the phone. 🤣 Front and (not so 🤣) center is Mike. Mike is Nick's father and like Nick has focused on his full time job. Mike helps out with deliveries when needed also. The two gentlemen on the right are our awesome delivery team. Far right is Cody. Cody is the newest addition to the team and is our driver. Even being a new addition he has shown us that he is a fast learner with a can do approach to everything. His customer service is impeccable and we are so grateful he is a part of our team. In between Vanessa and Cody is Rocky. Rocky is such an asset to our team. He is a high school senior and boy does he have a great work ethic. Between distance learning and working for us Rocky never hesitates to come in and give it his all. Talk about a wonderful team we have here! If you see us out and about make sure you say hey! *new photo coming 😊 We look forward to meeting each of our fabulous customers and hope we can make your party a blast! 🤩
Below is the story that began Toads Jump in 2015 with the original owners. With us being great friends, I did not want to lost their part of the story as we believe the same thing…A party is not a party without a jump house!

THE STORY THAT STARTED IT ALL…
A LITTLE BOY IS SO WISE BEYOND HIS YEARS. HE WANTED TO KNOW HOW A WEDDING COULD BE A PARTY WHEN HE DIDN'T SEE A "JUMPY" ANYWHERE……..

A PARTY IS NOT A PARTY WITHOUT A JUMP HOUSE. WHEN HE NOTICED THERE WERE KIDS AT THE WEDDING, HE WAS CONFUSED ON WHY THERE WAS NOT A JUMP HOUSE FOR THE KIDS. HE WAS SO RIGHT THEY WERE MISSING A KEY ELEMENT.

A SIMPLE SOLUTION TO HOURS OF ENTERTAINMENT, A BUILT IN SITTER AND JUST A WAY TO BRING A SMILE TO A CHILDS FACE. HOW MANY OF YOU HAVE EVER LET YOUR KID IN A JUMPY AND THEN TRIED TO GET THEM OUT? IT IS DIFFICULT BECAUSE THEY ARE HAVING SUCH A GREAT TIME. THERE IS NOTHING BETTER THAN HEARING THE GIGGLES, THE LAUGHTER AND SEEING YOUR KID BE CARE FREE AND HAVING A GREAT TIME, WITH SUCH A SIMPLE THING.

THIS IS WHY TOADS JUMP WAS STARTED. TWO LIFELONG FRIENDS WERE TALKING FOR YEARS ON HOW THEY WANTED TO START A SIDE BUSINESS TO MAKE A LITTLE EXTRA CASH AND DO SOMETHING THAT WAS WORTH THE TIME AND ENERGY. AFTER TIME HAD PASSED, FAMILIES WERE MADE, IT WAS TIME TO PUT SOMETHING TO FRUITION. BASED ON COMBINED EXPERIENCE IN MARKETING, SALES, BUSINESS AND OVERALL CUSTOMER SERVICE IT WAS SO EASY……
WHAT TYPE OF BUSINESS WOULD ALLOW US TO BRING OUR WORK HOME AND STILL EXCITE OUR KIDS AND BRING A SMILE TO THEIR FACE? THAT WAS EASY, WE COULD EVEN JUST THROW IT IN THE BACKYARD, PLUG IT IN AND "BAM" DONE DEAL, INSTANT FUN.

NOT ONLY DO WE WANT TO SHARE WITH OUR FAMILIES, BUT ALSO WITH THE COMMUNITY. WHY NOT GIVE PEOPLE THE SAME OPPORTUNITY TO BRING THAT SMILE AND FUN TO THE PARTY! THAT IS HOW TOADS JUMP WAS BORN.

AND THEN IN SEPTEMBER 2019 THINGS CHANGED…
A NEW FAMILY TOOK OVER…AS A FELLOW LONG TIME FAMILY FRIEND OF THE ORIGINAL OWNERS, WE SAW THE COMPANY GROW. WHEN THE IDEA WAS BROUGHT TO OUR ATTENTION ABOUT THE POSSIBILITY OF TAKING OVER WE JUMPED AT THE CHANCE. WE HAVE KNOW THE ORIGINAL OWNERS FOR SOME TIME AND KNOW THAT CUSTOMER SERVICE IS TOP PRIORITY. WE ARE BEYOND BLESSED TO HAVE THE TORCH PASSED ONTO US.

WE RELY ON REPEAT CUSTOMERS AND WORD OF MOUTH BECAUSE OUR CUSTOMERS ARE LIKE FAMILY.SAFETY AND SATISFACTION IS OUR NUMBER ONE PRIORITY. ALL OF OUR JUMPS ARE OWNED AND OPERATED BY TOADS JUMPS. OUR JUMPS ARE INSPECTED AND CLEANED BEFORE EACH DELIVERY, ARRIVE ON TIME AND WE MAKE THE RENTAL AN EASY PROCESS.